Marvel Snap has just unveiled its development roadmap for August 2023, featuring a variety of exciting updates and announcements that will thrill players. Some of the exciting features they have shared are Conquest mode and the highly awaited PC launch. Moreover, they have given some details about what is currently in development and in the planning stage, which we will explore more in this article.
Card Upgrade Improvements
One important announcement is the launch of the game on PC. This allows players to access the same features and benefits across different platforms, such as claiming rewards, checking their inboxes, and getting news updates directly on their preferred platform. As a result, there is no longer a need to log in via mobile devices just for reward claiming purposes.
The game will soon have additional features like Twitch Drops, Seasonal Audio, Card Upgrade Enhancements, Conquest Polish, Infinity Rank Revamp, and Global Matchmaking - Phase 1. These additions will be launched along with the PC Launch.
There are two new additions to the Card Upgrade Enhancements: Multi-Upgrade and Upgrade with Gold. With Multi-Upgrade, players can easily select their desired Quality level and instantly achieve it with just one tap, saving them time and making it more convenient. On the other hand, Upgrade with Gold allows players to upgrade their cards even if they don't have enough Boosters or Credits by using a certain amount of Gold instead.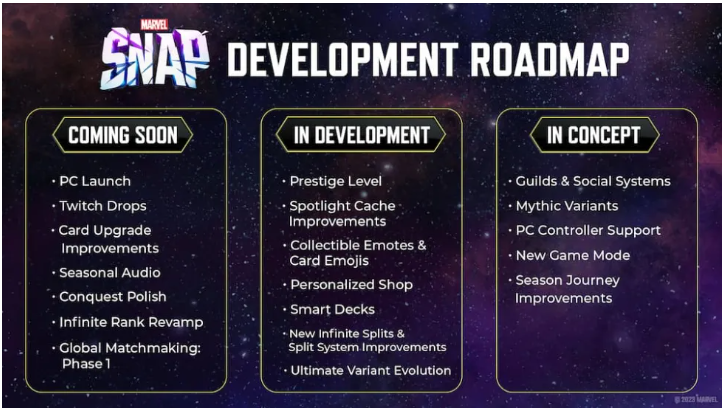 Conquest Mode Enhancements
The developers have made several enhancements to the Conquest mode based on player feedback. These enhancements include making losses feel more seamless, adding faster or skip-able animations for a smoother gameplay experience, improving audio control by updating mute behavior, and enhancing the user interface and overall user experience. All these changes aim to make playing the Conquest mode more fun and efficient for players.
Other New Features Coming Soon
There are several features that are currently in progress and will be available once they are done. These features include:
Prestige Level
Spotlight Cache Improvements
Collectible Emotes & Card Emojis
Personalized Shop
Smart Decks
New Infinity Splits & Split System Improvements
Ultimate Variant Evolution
The initial phase of game development discusses potential features that could be added in the future. Some concepts being considered for implementation during the development phase are listed below.
Guilds / Clans
Mythic Variants
PC Controller Support
New Game Mode
Season Journey Improvements
Before implementing these updates in the game, the developers will take into account feedback and insights provided by players. You can access the complete development blog for more information.